German-speaking market unlocked for OBM

Partnership between OBM Dynamics and Viable Projects GmbH
Viable Projects GmbH and OBM Dynamics B.V. are pleased to announce their partnership in offering Organizational Behavior Management (OBM) Foundation Level Trainings.
Viable Projects has become the first Certified Partner of OBM Dynamics to sell and deliver the OBM Foundation Level Training under license in the German speaking part of Europe.
Viable Projects was among the first companies outside The Netherlands to have one of its trainers certified as Certified OBM Instructor, recognizing OBM as a strong and natural extension of their portfolio. Having built a successful business in Kanban, Agile, Facilitation, The Responsibility Process, Adaptive Org Design, simulations, project-management and business-analysis they are embracing OBM to ensure leaders in organizations understand the importance of organizational behavior management.
OBM helps leaders and influencers design practical strategies that can be used to change behavior. It instigates methods to improve human performance leading to an improvement in business goals.
The three-day Foundation training is a hands-on course, based on a variety of scientific resources that is actively supported by ADRIBA (the Aubrey Daniels Research Institute for Behavior Analysis, part of VU University in Amsterdam). Examination and Certification of OBM training participants is processed by APMG International, another partner of both OBM Dynamics and Viable Projects.
Dieter Strasser, CEO of Viable Projects: "Business agility can only be achieved by addressing the organisation AND the people. OBM provides the necessary clear guidance of behaviour by understanding motivation. The illuminating breakdown and its causal relationship into antecedents, behaviour and consequences makes THE essential difference day after day. This mature method supports in solving about 80% of all recurring challenges in dealing with people. It supports both the leader and the performer. Economically outstanding results and a motivating work environment can be achieved for the benefit of all involved. We see OBM, along with the Responsibility Process, as THE key for every individual."
Organizational Behavior Management is a science to optimize performance 
Repeated research has shown that a staggering 70% of organizational change programs fail to meet all their objectives. In no less than 60% of those cases, 'Behavior' is determined as the root cause.
By understanding how to influence behavior leaders can start to better understand and manage people at work, in forming a culture that contributes to meeting strategic goals such as improved customer satisfaction. 
Organizational Behavior Management (OBM) is a scientifically proven method for optimizing organizational performance, combining a 'seven-step protocol' with hard data and a focus on encouraging and reinforcing positive behavioral changes. The 'seven-steps' include how to determine pinpoints, develop a measurement system and designing and implementing a solution. 
Used successfully worldwide for over 40 years, OBM has a proven track record of improving organizational performance in every field of business, in hundreds of reported cases, by focusing on behaviors instead of results only. 
Joost Kerkhofs & Robert den Broeder (Founders & Directors, OBM Dynamics B.V.) say, "People love change! As long as they benefit from it themselves! The training and certification draws from a wealth of scientific studies, bringing to life how behavior can impact organizational change.
We have trained hundreds of leaders and influencers in the Netherlands. Since 2010 we have collected an impressive number of cases on how OBM has successfully helped public and private organisations to achieve their goals. These cases have shown that behavior is the key to successfully apply best practices, frameworks and management philosophies such as Agile, DevOps, Scrum and Lean. We look forward to working with Viable Projects to help extend the use of OBM."
About OBM Dynamics B.V.
OBM Dynamics B.V. designs, develops and distributes educational products in the field of Organizational Behavior Management (OBM) worldwide through its own network and that of its licensed partners. It also trains and certifies OBM Instructors in association with APMG International.
Contact: Joost Kerkhofs, Co-Founder & Director
T: +31 (0)85-1308563  |  E: j.kerkhofs@obmdynamics.nl
About Viable Projects GmbH
Viable Projects carries out organic organizational development for high efficiency. It trains, supervises and accompanies frameworks in order to achieve Business Agility preferred in the German speaking region.
Contact: Dieter Strasser, Owner & Managing Director
T:+43 664 840 834 5 | E: d.strasser@viableprojects.eu
Partnerschaft zwischen OBM Dynamics und Viable Projects GmbH
Viable Projects GmbH und OBM Dynamics B.V. freuen sich, ihre Partnerschaft beim Angebot von Organizational Behavior Management (OBM) Foundation Level Trainings bekannt zu geben.
Viable Projects ist der erste zertifizierte Partner von OBM Dynamics, der das OBM Foundation Level Training in Lizenz im deutschsprachigen Raum verkauft und durchführt.
Viable Projects war eines der ersten Unternehmen außerhalb der Niederlande, das einen seiner Trainer als Certified OBM Instructor zertifizieren ließ und damit OBM als eine starke und natürliche Erweiterung seines Portfolios erkannte. Nachdem sie ein erfolgreiches Unternehmen in den Bereichen Kanban, Agile, Facilitation, The Responsibility Process, Adaptive Org Design, Simulationen, Projektmanagement und Business-Analyse aufgebaut haben, setzen sie OBM ein, um das Verständnis der Bedeutung von Organizational Behavior Management durch die Führungskräfte in Organisationen sicherzustellen.
OBM hilft Führungskräften und Beeinflussern, praktische Strategien zu entwickeln, die zur Verhaltensänderung eingesetzt werden können. Es regt Methoden zur Verbesserung der menschlichen Leistung an, die zu einer Verbesserung der Geschäftsziele führen.
Das dreitägige Foundation-Training ist ein praxisorientierter Kurs, der auf einer Vielzahl von wissenschaftlichen Ressourcen basiert und aktiv von ADRIBA (dem Aubrey Daniels Research Institute for Behavior Analysis, Teil der VU Universität in Amsterdam) unterstützt wird. Die Prüfung und Zertifizierung der OBM-Trainingsteilnehmer wird von APMG International abgewickelt, einem weiteren Partner sowohl von OBM Dynamics als auch von Viable Projects.
Dieter Strasser, CEO von Viable Projects: "Business Agility kann nur erreicht werden, wenn man die Organisation UND die Menschen adressiert. OBM liefert die notwendige klare Verhaltenssteuerung durch das Verständnis von Motivation. Die erhellende Aufschlüsselung und deren kausaler Zusammenhang in Antezedenzien, Verhalten und Konsequenzen macht Tag für Tag DEN wesentlichen Unterschied. Diese ausgereifte Methode unterstützt bei der Lösung von ca. 80% aller wiederkehrenden Herausforderungen im Umgang mit Menschen. Sie unterstützt sowohl die Führungskraft als auch den Ausführenden. Wirtschaftlich herausragende Ergebnisse und ein motivierendes Arbeitsumfeld können zum Nutzen aller Beteiligten erreicht werden. Wir sehen OBM, zusammen mit dem Responsibility Prozess, als DEN Schlüssel für jeden Einzelnen."
Organizational Behavior Management ist eine Wissenschaft zur Leistungsoptimierung
Wiederholte Untersuchungen haben aufgezeigt, wie sage und schreibe 70% aller organisatorischen Veränderungsprogramme ihre Ziele nicht erreichen. In nicht weniger als 60 % dieser Fälle wird "Verhalten" als die Hauptursache festgestellt.
Wenn Führungskräfte verstehen, wie sie das Verhalten beeinflussen können, können sie beginnen, die Menschen am Arbeitsplatz besser zu verstehen und zu managen, um eine Kultur zu formen, die dazu beiträgt, strategische Ziele wie z.B. eine verbesserte Kundenzufriedenheit zu erreichen.
Organizational Behavior Management (OBM) ist eine wissenschaftlich erprobte Methode zur Optimierung der Unternehmensleistung, die ein "Sieben-Schritte-Protokoll" mit konkreten Daten und einem Fokus auf die Förderung und Verstärkung positiver Verhaltensänderungen kombiniert. Die 'sieben Schritte' beinhalten die Bestimmung von Brennpunkten, die Entwicklung eines Messsystems und die Konzeption und Implementierung einer Lösung.
OBM wird seit über 40 Jahren weltweit erfolgreich eingesetzt und hat in Hunderten von Fällen bewiesen, die organisatorische Leistung in jedem Geschäftsfeld zu verbesseren, indem es sich auf Verhaltensweisen statt nur auf Ergebnisse konzentriert.
Joost Kerkhofs & Robert den Broeder (Gründer & Geschäftsführer, OBM Dynamics B.V.) sagen: "Menschen lieben Veränderungen! Solange sie selbst davon profitieren! Das Training und die Zertifizierung stützen sich auf eine Fülle von wissenschaftlichen Studien, die aufzeigen, wie Verhalten organisatorische Veränderungen beeinflussen kann.
Wir haben bereits Hunderte von Führungskräften und Influencern in den Niederlanden geschult. Seit 2010 haben wir eine beeindruckende Anzahl von Fällen gesammelt, wie OBM öffentlichen und privaten Organisationen erfolgreich geholfen hat, ihre Ziele zu erreichen. Diese Fälle haben gezeigt, dass Verhalten der Schlüssel zur erfolgreichen Anwendung von Best Practices, Frameworks und Managementphilosophien wie Agile, DevOps, Scrum, Kanban und Lean ist. Wir freuen uns auf die Zusammenarbeit mit Viable Projects, um den Einsatz von OBM zu erweitern."
Über OBM Dynamics B.V.
OBM Dynamics B.V. entwirft, entwickelt und vertreibt Bildungsprodukte im Bereich Organizational Behavior Management (OBM) weltweit über sein eigenes Netzwerk und das seiner lizenzierten Partner. Außerdem schult und zertifiziert das Unternehmen OBM-Trainer in Zusammenarbeit mit APMG International.
Kontakt: Joost Kerkhofs, Mitbegründer & Direktor
T: +31 (0)85-1308563 | E: j.kerkhofs@obmdynamics.nl
Über Viable Projects GmbH
Viable Projects führt organische Organisationsentwicklung für hohe Wirkung durch. Sie trainiert, betreut und begleitet, um Business Agilität bevorzugt im deutschsprachigen Raum zu erreichen.
Kontakt: Dieter Strasser, Inhaber & Geschäftsführer
T:+43 664 840 834 5 | E: d.strasser@viableprojects.eu
OBM Dynamics and OBM Solutions have come to an agreement for the delivery and service of several OBM specific e-learning solutions, including the new mobile OBM learning platform.
OBM Dynamics and ADRIBA, the OBM institute of VU University Amsterdam (The Netherlands) have come to an agreement for the delivery of the OBM Foundation training, a special version of our training, aimed for post-graduate students of the ADRIBA institute, as well as students of the international Summer School.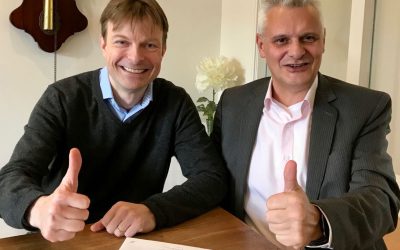 Robert den Broeder and Joost Kerkhofs are now officially partners as OBM Dynamics, offering you the Science of Success.