OBM Solutions to become the main technology partner.
OBM Dynamics and OBM Solutions have come to an agreement for the delivery and service of several OBM specific e-learning solutions, including the new mobile OBM learning platform.
This state-of-the-art mobile app will become the main companion for OBM Foundation Level students to aid them in their studies. Containing artificial intelligence, the app will offer each user a unique leaning route, based on their personal scores, in preparation for the exam.
With this deal, OBM Dynamics has gained access to a cutting-edge learning solution that will provide us with a strategic advantage.
APMG has partnered with OBM Dynamics B.V. to offer Organizational Behavior Management (OBM) training and certification to help leaders design practical strategies that can be used to change behavior. OBM instigates methods to improve human performance leading to an improvement in business goals.
OBM Dynamics and ADRIBA, the OBM institute of VU University Amsterdam (The Netherlands) have come to an agreement for the delivery of the OBM Foundation training, a special version of our training, aimed for post-graduate students of the ADRIBA institute, as well as students of the international Summer School.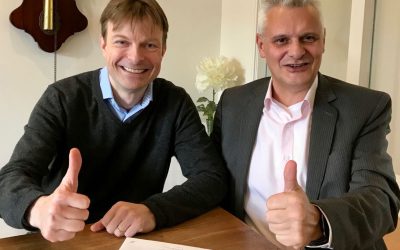 Robert den Broeder and Joost Kerkhofs are now officially partners as OBM Dynamics, offering you the Science of Success.